AVONDALE GROUP CELEBRATES THE START OF A STYLISH SEASON WITH BENTLEY DALLAS LADIES LUNCHEON IN PARTNERSHIP WITH NEIMAN MARCUS WILLOW BEND AND PERRICONE MD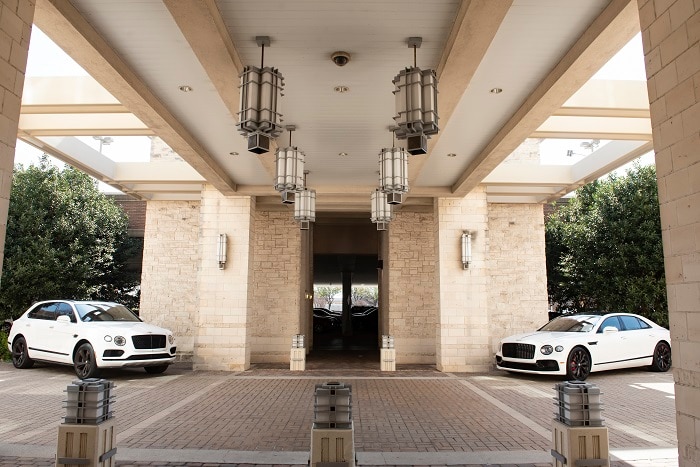 Guests enjoyed an intimate reception, luncheon, and fashion show featuring the latest Spring styles from top designers at Neiman Marcus.
DALLAS, TX – On Thursday, March 17, Bentley Dallas, part of Avondale's Premier Collection, welcomed the new 2022 Bentley Flying Spur and the 2022 Bentley Bentayga to the metroplex with style at Neiman Marcus Willow Bend, event co-sponsor. Attendees arrived dressed to the nines and were treated to an intimate reception, luncheon, and elevated first look of top designer styles for Spring 2022, emceed by Maureen Kilmer, Brand Experience Manager at Neiman Marcus Group. Each attendee was provided with an amazing gift bag of Cold Plasma Skin Care and other opulent products from the luxury skincare brand and co-sponsor, Perricone MD.
Vice President of Marketing for Avondale Group, Kennedy Gibson, welcomed attendees to enjoy the special event. "We're excited to partner with Neiman Marcus Willow Bend and Perricone MD who share our passion for innovation and extraordinary products," said Gibson.
"March is not only the month where we spring forward, it is also the month we celebrate International Women's Day and Women's History. I am excited to announce that Avondale will be supporting The Philanthropic Education Organization of North Tarrant County, a philanthropic organization where women celebrate the advancement of women; educate women through scholarships, grants, awards, loans, and stewardship of Cottey College; and motivate women to achieve their highest aspirations. Thank you Letitia Johnson from Celebrity Cruises, Inc. for introducing us to this incredible organization."
Event attendees were among the first in North Texas to see the curated stylings of Spring 2022 from designers like Alexander McQueen, Christian Louboutin, Loewe, Dolce & Gabbana, Stuart Weitzman, and others while dining on Chicken Paillard, Popovers, Chicken Broth, and Chocolate Mousse Cups provided by Neiman Marcus, as well as gourmet strawberry cheesecake macarons provided by Yasmeen Tadia from Make Your Life Sweeter.
"Thank you so much to Bentley Dallas and Avondale for inviting us to this stunning event," said Rochelle Gotsdiner "I treated myself to the most incredible statement earrings from Mignonne Gavigan. Thank you for giving me a reason to splurge for a worthy cause."