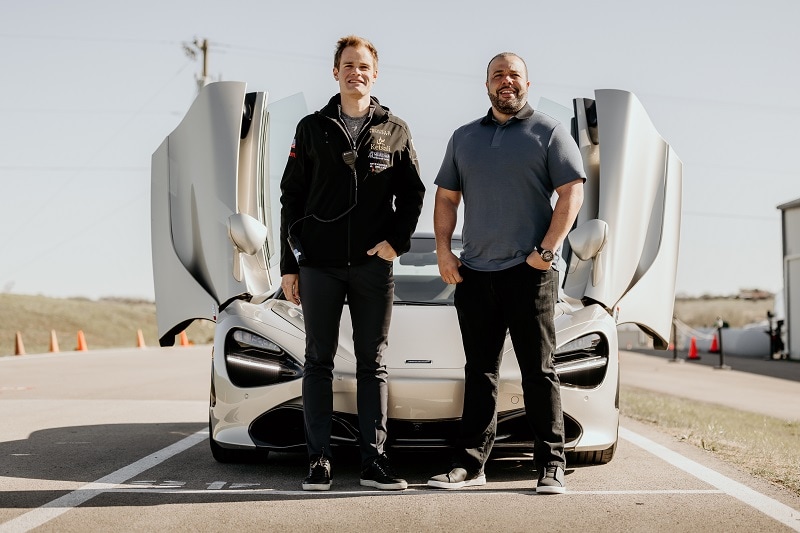 From L to R, Nick Boulle and Chad Willis with McLaren 720s at Eagles Canyon Raceway Courtesy: Transcendent MVMT
DALLAS, TEXAS - (October 13, 2021) — Avondale Group, North Texas' leading retailer of luxury, performance automobiles announced last month the launch of INTERSECTIONS, an Avondale Originals Series and Podcast. The episodic series pairs business leaders, entrepreneurs, artists, athletes and creative visionaries to discuss their passions and share what drives them in life, business, and everything in between.
"INTERSECTIONS brings local North Texas figures together surrounded by exceptional cars and venues to discuss what is important in their lives through elevated conversations," said Kennedy Gibson, Marketing Director for Avondale Group. "This next episode really brings what we do best together; building great relationships and sharing some of our elevated offerings from sportscars to supercars."
Episode 2, titled "Pit Stop," features Race Car Driver and Dallas Jeweler Nick Boulle of de Boulle Diamonds & Jewelry and Serial Entrepreneur and Energy Baron Chad Willis, CEO of iStick Capital and Co-Owner and Chief Investment Officer of Teamwork Commerce, who meet for the first time at Eagles Canyon Raceway in Decatur, Texas.
Avondale Group paired the duo with a track-ready McLaren 720S and Porsche 911 Turbo S perfect for the setting. Throughout the episode, both Willis and Boulle share their backgrounds from first car to early successes and their business mindset as well as the meaning of family, mentorship and community engagement. After their conversation, they hit the track in the McLaren 720s where viewers will ride shotgun as Willis and Boulle each get behind the wheel for some fast laps.
Chad Willis said, "I absolutely loved the Avondale experience. I learned a lot about high- performance cars while spending the day with Nick Boulle," said Willis. "I appreciate Nick's entrepreneurship story, his love of family, giving back to the community, financial success, all while remaining humble throughout all our experiences with him. I found him very down to earth and a class act along with Avondale."
"Filming with Chad was a blast. You can tell that he's super driven. Introducing someone like that to the racetrack is always extra special —and when it's in something as extraordinary as a McLaren 720S... it makes for a fun day," added Nick Boulle.
The series title "INTERSECTIONS"traces back to Avondale Group's heritage, paying homage to the intersection of Oak Lawn and Avondale, where the Founders opened their first Mercedes-Benz dealership in 1987. Avondale's ongoing commitment to its core values of elevating experiences and the importance of personal relationships between its members, owners and community are embodied in these episodes.
The series is directed and produced by Muddy Shutter Media and is edited by Dallas-based Mothership Media. INTERSECTIONS episodes will be released on a monthly basis via Avondale Group's YouTube channel.