Avondale Dealerships' Simon Crossley Presents to Highland Park High School's MAPS Engineering Design Students Utilizing the McLaren Brand
The virtual presentation showcased the thoughtful details incorporated into McLaren's design process as the students prepare for the second annual MAPS Grand Prix
On Tuesday, February 2, 2021, Avondale Dealerships provided Highland Park High School's MAPS Engineering Design students the opportunity to see how form meets function through the example of McLaren vehicles. Simon Crossley, McLaren Dallas Brand Manager, showcased how the impressive luxury vehicles utilize intentional engineering within their design.
"Avondale Dealerships recognizes the importance of elevating the community around us and being able to utilize the McLaren Dallas brand to supplement Highland Park High School's MAPS Engineering Design curriculum was truly special," said Crossley. "Describing the thoughtful details incorporated into McLaren's design process to enhance vehicle performance was relevant to the students as they work on one of their core projects focused around automobiles."
Within the one-hour virtual presentation, Crossley described the use of sophisticated aerodynamics with advanced technologies such as carbon fibre and hybrid power to deliver safety and speed. Additionally, he showcased many vehicles from the McLaren line, including the 600LT, which is designed for power and performance, to explain how design impacts intended use.
"Our juniors and seniors are designing and building RC cars for the second annual MAPS Grand Prix and McLaren gave them inside industry access that was exhilarating and informative." Dr. Geoffrey Orsak, Director of the Moody Innovation Institute, said. "We are thankful to the McLaren Dallas team for sharing their expertise and engineering and design insight with the class."
Michael Warren, Director of the MAPS Program feels these types of professional partnerships set Highland Park Independent School District students on a path of discovery that takes them in their college careers prepared for investigative and creative challenges. "We designed this program to give our students the opportunity to work with experts like Avondale Dealerships' Crossley in order to share real-world experiences that really enhance our curriculum."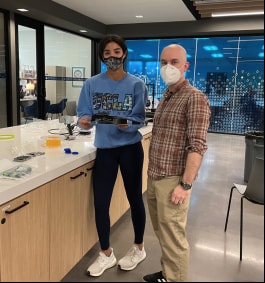 Junior Bella Alomar, MAPS Design Student, and Instructor Chris Fullwood
Juniors Bella Alomar and Brady Boyanovsky who are designing a Formula One race model were excited to hear the presentation. The students added: "They validated our design instincts. It was cool to hear how their engineers harness aerodynamics to achieve top performance and we hope that we can do the same on our car."
---
MAPS Program Overview:
The Moody Advanced Professional Studies (MAPS) center, which opened in the fall of 2019, provides opportunities for HPHS juniors and seniors to combine traditional coursework with collegiate-level classes and hands-on experience from industry experts in the fields of science, technology, engineering, the arts, mathematics and business. The mission of the MAPS program is to equip students with a postsecondary competitive edge by connecting rigorous, interdisciplinary coursework with professional, industry-relevant experiences.
Original funding for the program was made possible by the $5.8 million grant from The Moody Foundation.
About Avondale Group:
Avondale Group is an innovative business led by a team with decades of success and experience in the automotive industry. Avondale is supported by members who have an incredible spirit for delivering an elevated client experience. This Spirit of Avondale runs deep and is channeled in multiple ways to care for the local community. Avondale Dealerships operate Mercedes-Benz of Grapevine, Porsche Grapevine, Sprinter Grapevine, Aston Martin Dallas, Bentley Dallas, Koenigsegg, McLaren Dallas, Maserati Dallas, and Rolls-Royce Motor Cars Dallas. In addition, the company manages Avondale Collision & Repair, and Avondale Select, a subscription service for luxury vehicles.