Congratulations to our outstanding team members from Mercedes-Benz of Grapevine, Avondale Collision & Repair, Porsche Grapevine, and the Premier Collection for being recognized for their dedication and outstanding work in 2020.
MERCEDES-BENZ OF GRAPEVINE & AVONDALE COLLISION AND REPAIR MEMBERS OF THE YEAR: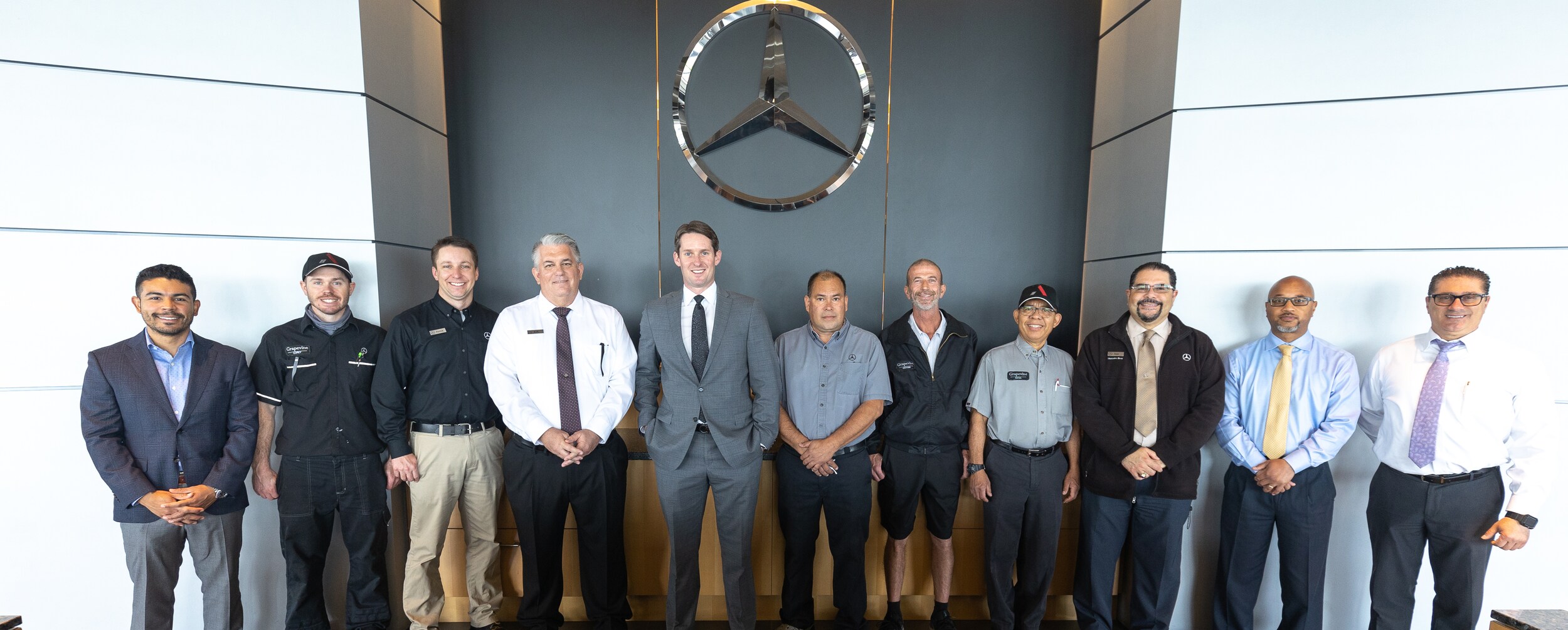 Service Tech - Corey Shepard embodies the Avondale SPIRIT. He is focused on what is best for the client and is willing to step up and lead. Corey is well respected and a great leader in the shop. These are just a few reasons why we have chosen Corey as our latest team leader and technician of the year.
Service ASM – Juan Feliciano displays the Avondale SPIRIT of Passion daily. Juan completed 11,687 hours while maintaining an average customer pay hours per RO of 4.21. Juan is a self-starter that shows passion in delivering a wonderful and consistent service experience to every client he meets.
Service Support – Jacob Augustine exhibits the Avondale SPIRIT of Service and Innovation. Since joining the internal make-ready team, he has been instrumental in developing and managing the inventory photo process that our sales teams rely on daily. He is always willing to lend a hand, he is committed to providing excellent service to our internal clients.
New Car SEM – Alejandro Perez has a positive attitude and is always willing to help train and assist our new SEMs. Alejandro sold 205 vehicles in 2020, held a CSI of 990 and was the top producer of new car gross profit.
Pre-Owned SEM – Scott Najjar displays true passion in his role as SEM. You can find him here six days a week assisting clients and generating new relationships. Scott sold 278 vehicles in 2020, generated over 1 million dollars in revenue while maintaining a 954 CSI.
Collision Center Estimator – AJ Jourdain displays the Avondale SPIRT consistently each and every day. He consistently gains the trust of his clients and is respected by his fellow teammates. AJ closed 2020 with a staggering 289 KPI points.
Collision Center Boby Tech - JC Baccus has a passion for the body shop business. He demonstrated that in 2020 by mentoring two interns in his department. JC has the respect and trust of his peers and sets the highest bar. While devoting his time and knowledge to our interns JC still remained focused and produced almost 6,400 hours last year.
Parts - Vic Gamez is an outstanding Avondale member, best known as Mr. Reliable. Vic is continually going out of his way to make other people's jobs easier. You can find Vic assisting the shipping and receiving team, alerting management of any possible inventory issues, or even checking the availability of a part for a technician. Vic is respected, and you can trust that he will lend a helping hand to those in need. His SPIRIT drives him to be the best he can daily!
Parts Counter – Kirk Pruitt is an outstanding team player, always willing to go the extra mile. Kirk is professional over the phone, in person, and in his email communications. Kirk often innovates ways for the company to make a better gross profit margin on parts. Kirk is well trusted and respected by his peers, clients, and leaders.
Support Member – Cheyenne Newman, Cheyenne demonstrates daily that his Car Wash position is not his only responsibility; he moves at a fast pace! He always lends a hand to his teammates, technicians, advisors, members, and management. Cheyenne demonstrates a true passion for helping others and an innovative spirit for solving problems and coming up with ideas that streamline and speed up the delivery of our client's vehicles. He has a Winning Attitude and a Servants' Heart!!
Dealership Member – Rafael Serrano embodies each of our core values on a daily basis with a servant's heart. He keeps our dealership in a world-class condition for our members and clients with a smile on his face and a friendly attitude. In 2020 Rafael showed innovation by sourcing cleaning supplies and using them to continually disinfect our members' offices, client lounges, and many other touchpoints in the dealership.
Dealership Coach – Patrick Duvall demonstrates a passion for coaching with his CAN-DO attitude. He is known to problem solve with his technicians but behind the scenes, he is consistently helping to find solutions for other departments at the dealership. Whether working on a vehicle or counseling a member who has something going on in their personal life Patrick demonstrates a true spirit of Trust.

---

PORSCHE GRAPEVINE MEMBERS OF THE YEAR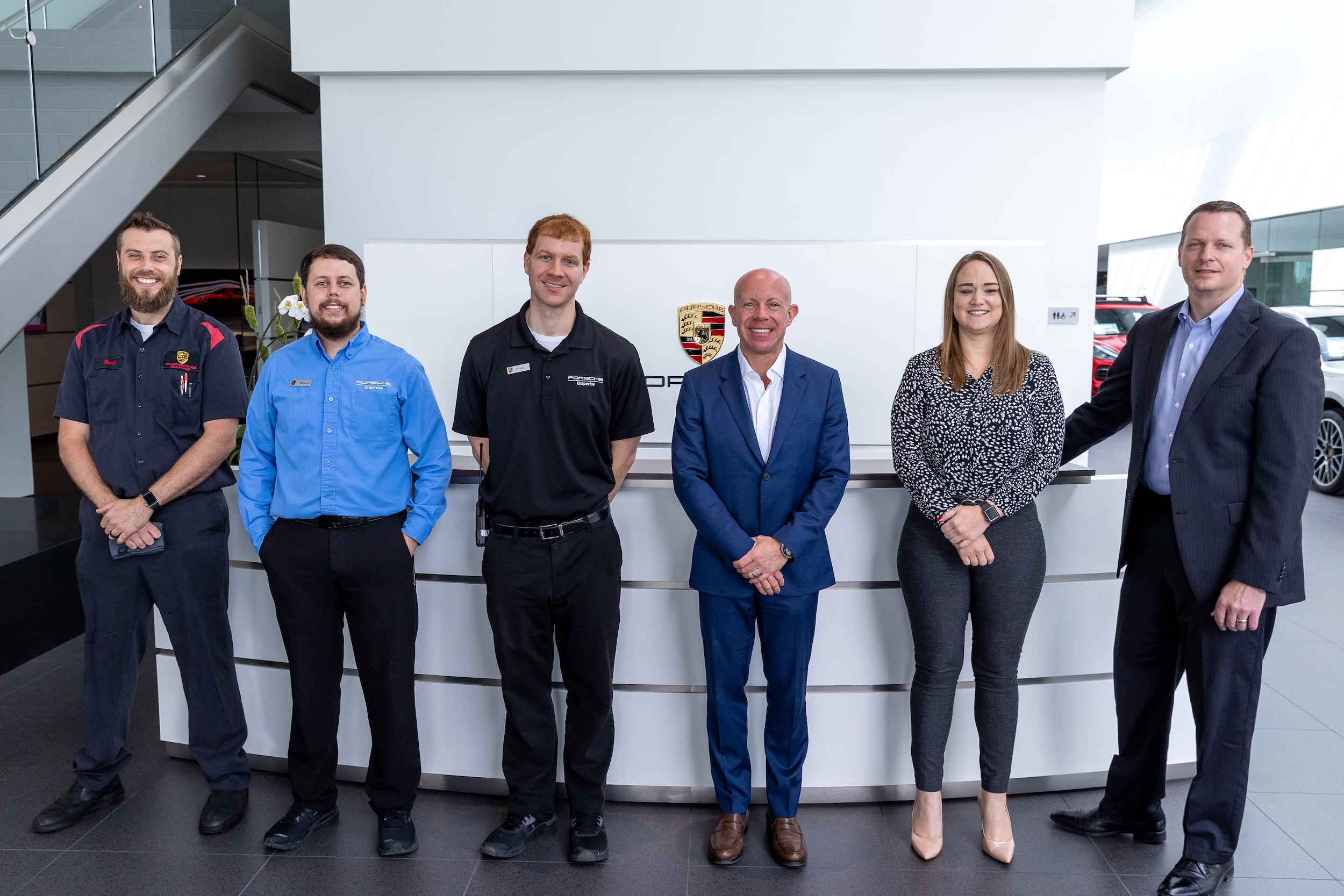 Technician of the Year- Mark Giardina is the definition of a team player. Mark is a highly skilled technician, always willing to help and mentor with a great attitude. Mark's family photos are so good looking they are used on displays at local picture frame stores!

Parts Member of the Year- Thomas Jenkins is willing, hardworking, agile, and dedicated. Thomas represents a true team player always willing to step in and get the job done. If you have any questions about home-brewing, Thomas is your man!

Service Support Member of the Year- Brian Farrell is our mystery valet, working diligently and quietly in the background. Brian coordinates and orchestrates with calmness. Brian is a true professional representation of Avondale and is sometimes mistaken for Ed Sheeran.

Dealership Member of the Year - Carly Beshers is as almost as quiet as her desk mate, Carly has taken the reigns with her career, works hard with new challenges every day, and keeps the entire sales and management team on their feet. For fun, Carly spends time learning and perfecting her knowledge of the finance department!

C

oach of the Year - Mario Pinney. When Mario speaks, people listen. Possibly because it is such a rare occurrence. Mario and his calming demeanor make him the go to director when something just needs to get handled. He is fantastic with both clients and members. Mario is consistent, unbiased and a great mentor. Having six kids may have something to do with it!

ASM of the Year- Ibrahim Bankhole (below) is enthusiastic, passionate and a man with a servant's heart. Ibrahim has a positive energy and is often acknowledged for his helpfulness, integrity, and knowledge. Ibrahim also won runner-up position in the unique beard contest!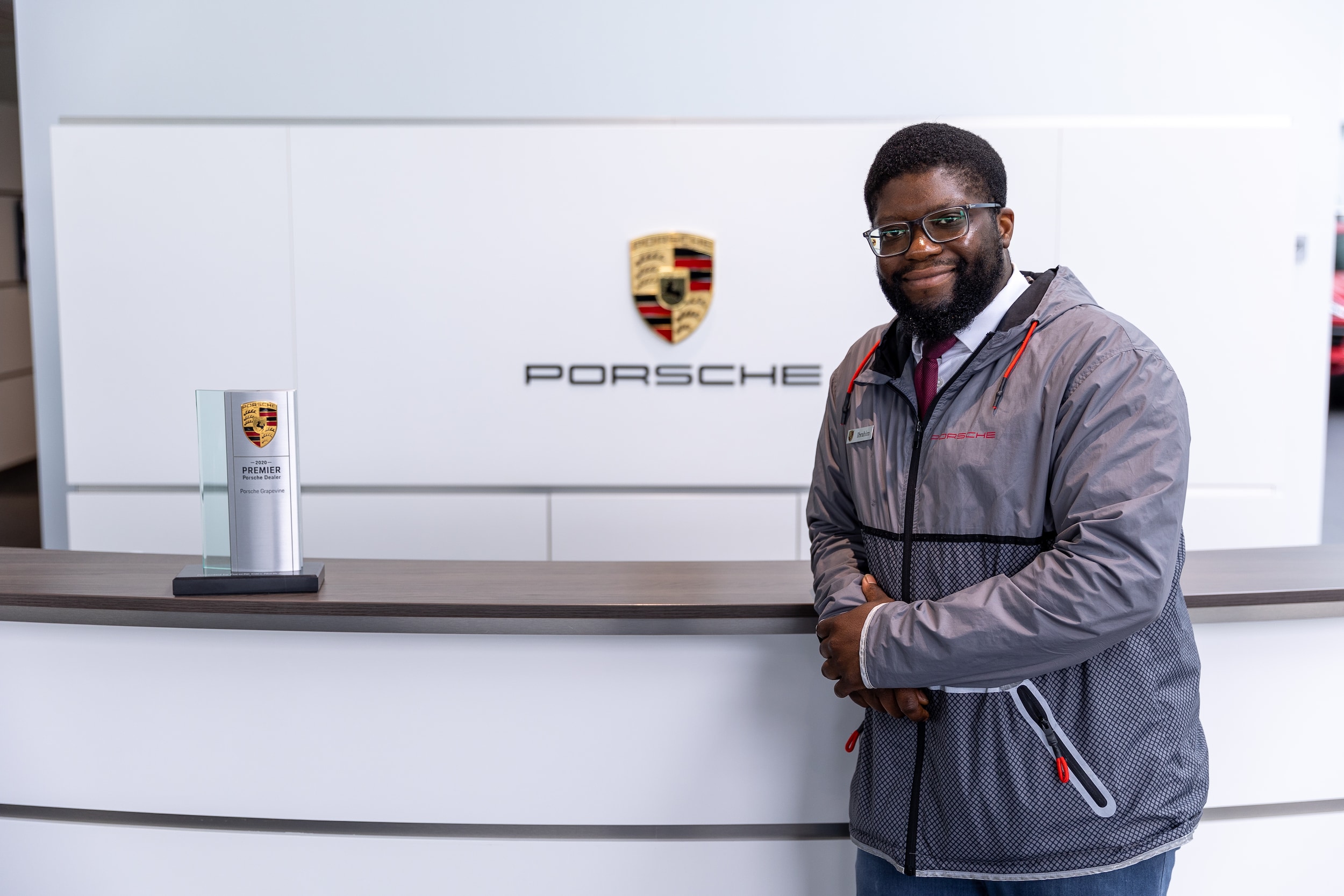 SEM of the Year- Luke Manning (below) works in sales, service, parts, marketing, practically every department. Simply because he is happy to help any member or any client, anytime, anywhere. Luke's positive energy is evident from all around the store. As is his joyous laugh!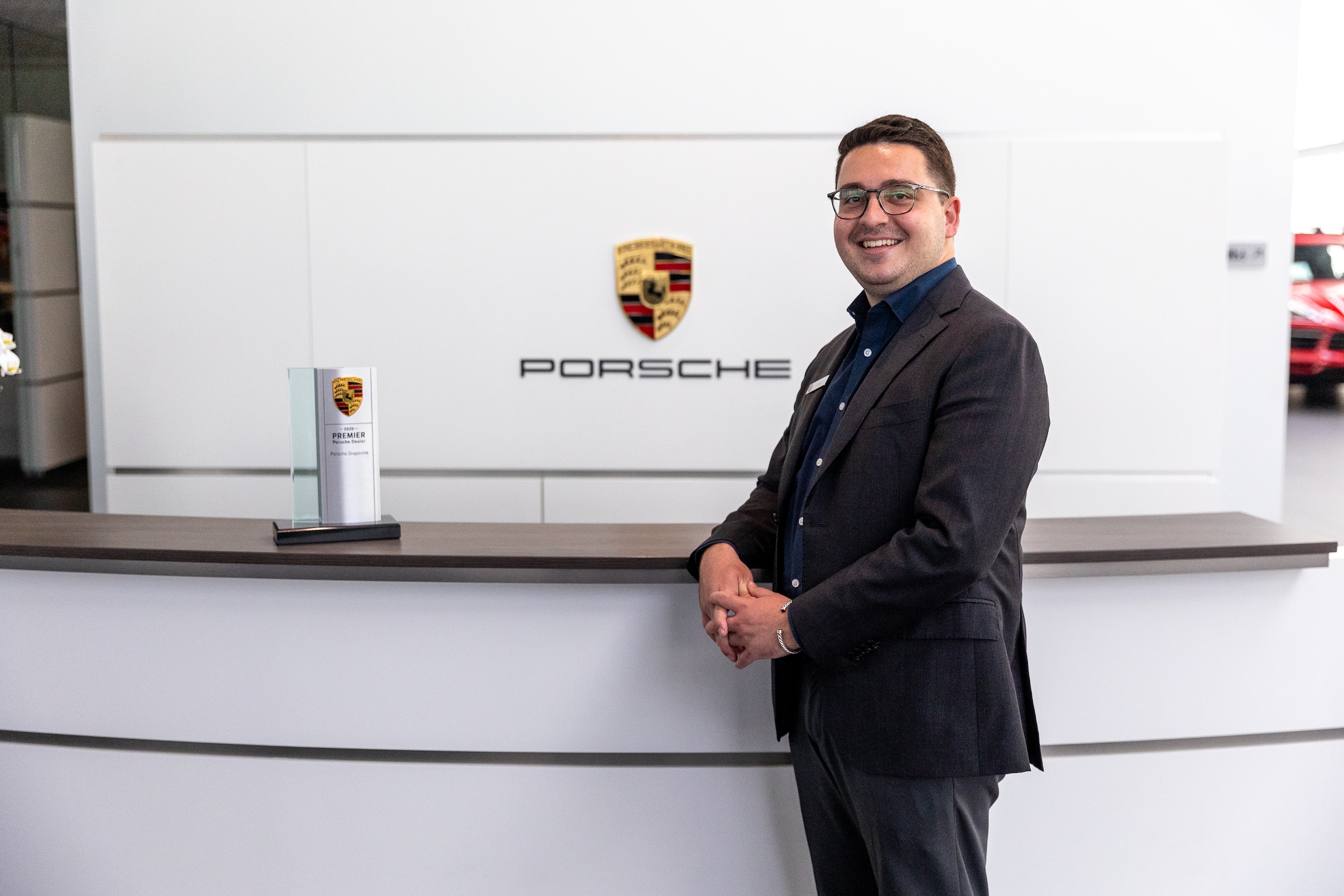 ---
PREMIER COLLECTION MEMBERS OF THE YEAR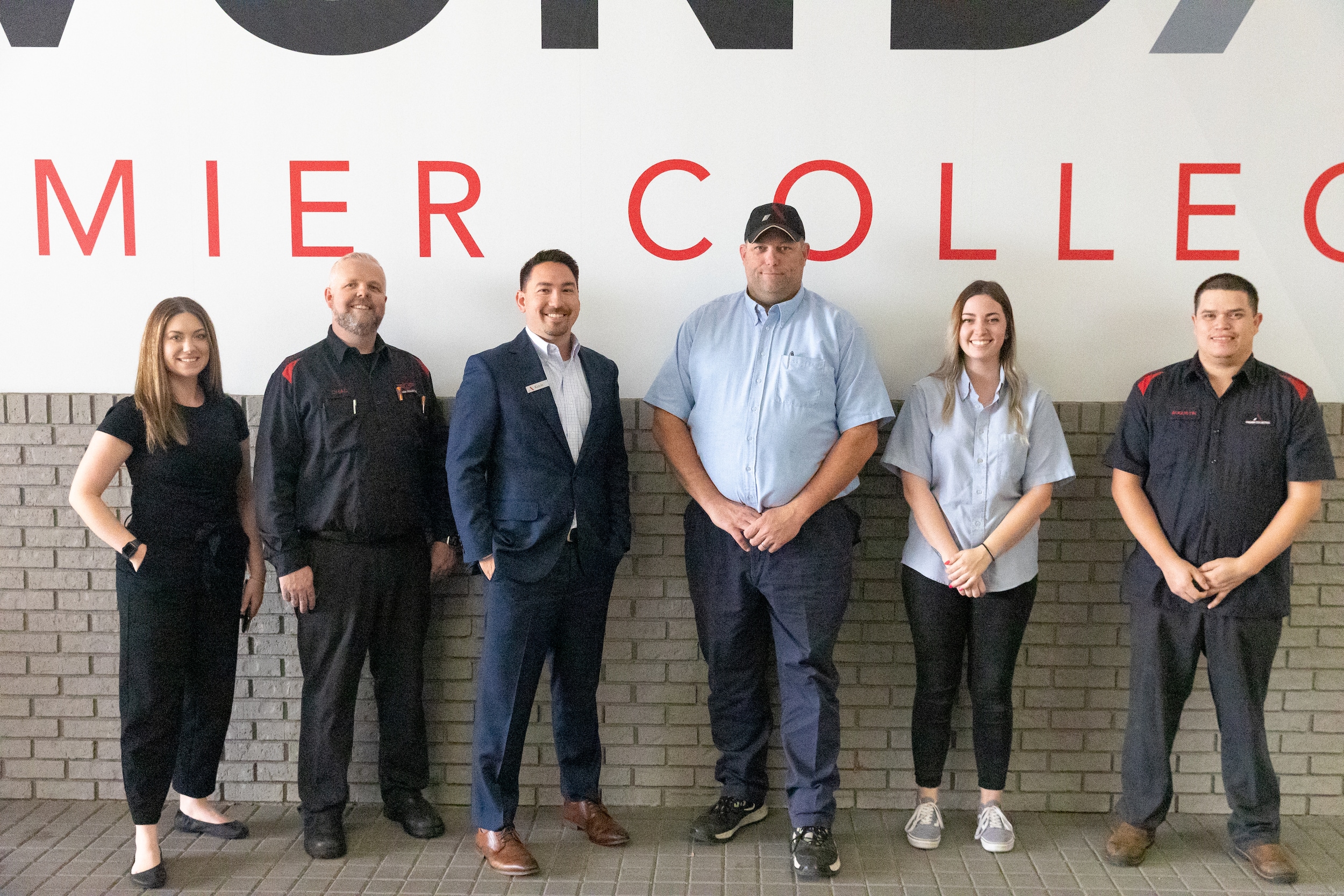 (service & parts)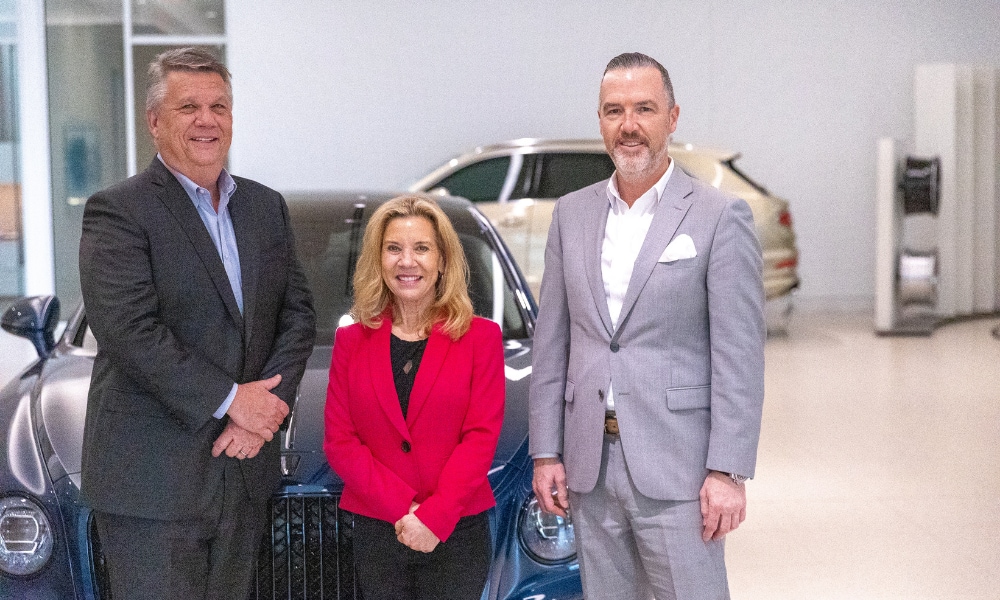 (sales)
ASM - Sharon Stanley --- PASSION –
Always strives to do her best with each and every client interaction. Averaging over 6 hours per RO, she goes above and beyond to meet our client's expectations!
Tech - Chad Hutchison --- PASSION --- One of the top-performing technicians and leaders in the shop, Chad ran over 2,200 hours in 2020; an outstanding result! He has also helped push our Bentley team to be one of the top-performing service teams in the Global Network!
Parts – Angie Alberino --- SERVICE, PASSION and INTEGRITY. She came a long way in a short time in 2020, with a lot of one-offs (Selling McLaren Houston, buying Aston Martin), and kept all paperwork straight to make sure we match up with Accounting. Great job, Angie!
SEM --- Beth Schneider --- INNOVATION. She is diligent and consistent, always looking for creative solutions to get the job done. Her results are always at or near the top, averaging 11 units per month in the second half of the year. These are excellent results in a very short period of time!
Service Support --- Agustin Cuevas – PASSION – Always willing to assist no matter what the task or what role he is in; maintains a Positive/Can-Do attitude at all times!
Overall --- Ben Gibbs – SERVICE, PASSION. Ben is the cornerstone of Premier in many ways and seems to be an endless resource of solutions and, more importantly, results. Kudos to Ben for being honored two years in a row!
Coach --- Kevin Chew –
SERVICE. Kevin, for the second year in a row, has epitomized the traits that exemplify leadership. His team stands behind him, as do the record-breaking results, because of the empathetic, accessible, and rational way he approaches our business.
SHARED SERVICES MEMBERS OF THE YEAR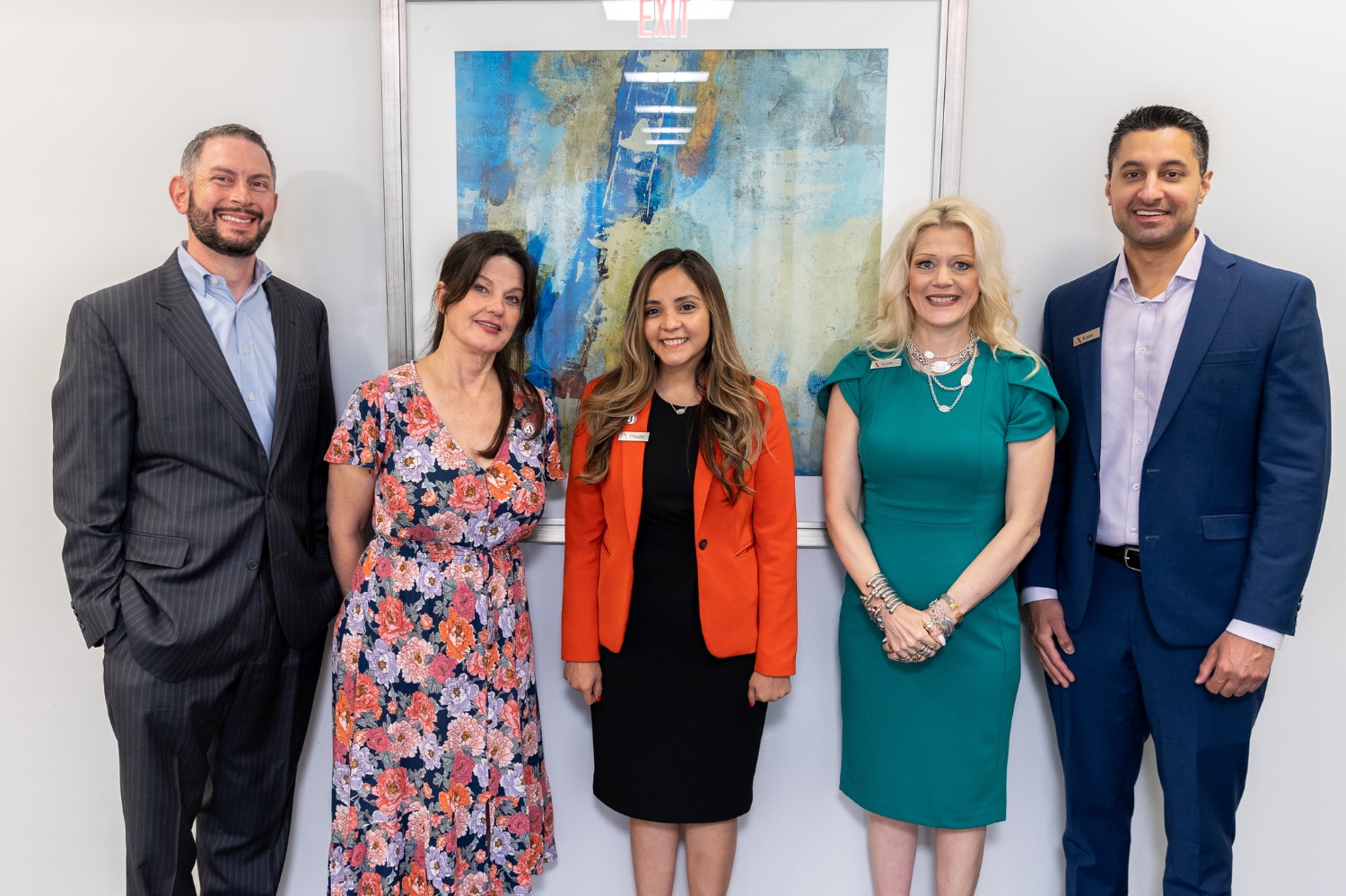 Claudia Espinoza
completely embodies the Avondale SPIRIT, while accomplishing so much for the Avondale community. In 2020, we did not have the luxury of staffing for accounting specialties at Avondale; therefore, Claudia had to learn "on the job" during the transition to Avondale with new responsibilities related to payroll. However, not only was Claudia learning on the job, she was asked to lead the implementation of the new ADP payroll system as a part of the transition to Avondale. Her passion and desire to serve her fellow members at Avondale (her clients) were key ingredients to the success she achieved in dealing with all of the behind-the-scenes issues of the implementation while making the conversion as seamless and painless as possible to the member experience. It is a joy to have Claudia as part of the Accounting team and to recognize her as a Shared Services Member of the Year.
Liz Shafton
demonstrates her commitment to Avondale daily by her willingness to serve others with a positive attitude. She is passionate about providing the highest quality experience for our clients and exceeds expectations in her performance. Liz is a consummate professional who is respected by our manufacture partners for her attitude and expertise. The transition to Avondale in 2020 meant Liz accepted new challenges in her job responsibilities. She has remained flexible, with this new role, while creating a path to success for everyone involved. Liz has earned the trust of the team and is valued by all who work with her.
Karan Sandhu
is a member that lifts the spirits of all of those around him! He's known to be a very hardworking member with a determination to resolve challenges with a kind and caring approach. In 2020, Karan transitioned from being the I.T. Support member for all of Park Place corporate to the primary member responsible for desktop assistance here at Avondale. We are thankful to have Karan as an important member of the Avondale team!
Kylie Whitehurst
fully embodies the Avondale SPIRIT. We can't say enough about her commitment to service for her team and her coworkers. She is always willing to step in and work on anything that needs to be done, including helping others when needed. She works longer days and additional days when Avondale needs it, especially to help cover for someone else that needs assistance. She brings passion to her job every day, both through delivering incredible experiences to the hundreds of people she speaks with daily and through pushing herself to exceed her goals. She is truly an incredibly important asset to the Avondale Community! It brings us great joy to announce Kylie as a Shared Services member of the year!
Bryan Podor is our Shared Services Coach of the Year!
In 2020, Bryan's responsibilities included helping to manage a BDC of 40 people and 3 Managers. In transitioning to Avondale, Bryan continued the role of BDC Director along with running the day-to-day operations of Avondale Select. Bryan is gifted at building teams and passionate about training members to reach their potential while delivering an Elevated Experience. Bryan and his team are a great representation of our core values! In his spare time, you can catch Bryan in of our Sales Offices He selflessly fills in for the F&I leaders throughout the company and does so with a great attitude and determination to support the right results for our clients and company. It is a true pleasure to recognize Bryan as our Shared Services Coach of the Year!
---
While Avondale Members and Coaches of the Year recipients will receive a financial award, we are REALLY looking forward to getting together in person to celebrate our success as we continue to navigate an exciting 2021! Our sincere congratulations to each of these members for their constant dedication to achieving great results, providing elevated experiences, and demonstrating the Avondale Spirit!