With less weight and more power than the McLaren 720, the 765LT can go 0-to-60 mph in 2.7 seconds
Lemmon Avenue literally rumbled recently as McLaren owners assembled for a look at the new McLaren 765LT, the Longtail (LT) upgrade to the popular 720S. Featuring less weight (176.37 pounds lighter) and more power (755-horsepower with 590 lb-ft of torque) the 765LT can propel the driver from 0-to-60 mph in 2.7 seconds…0-to-125 mph in 7.5 seconds.
"Nestled between the 720S and the Senna, the McLaren 765LT is the most powerful Longtail ever built," said Heath Strayhan, General Manager of Avondale Premier Collection. "Unreservedly focused on the driver, the 765LT is designed for the track, but civilized enough for Dallas' streets. Breathtaking to behold with breathless performance. Only 765 of the new 765LTs will be built, with approximately 30-to-40 percent of those being delivered to the U.S."
While waiting for the reveal, guests enjoyed inspired appetizers while perusing Deborah Gaspar's jewelry collection and sipping "McLaren OLT Fashion" cocktails (an inspiring twist on the Old Fashion, made with Genfiddich 14) paired with a curated assortment from Cigars-X.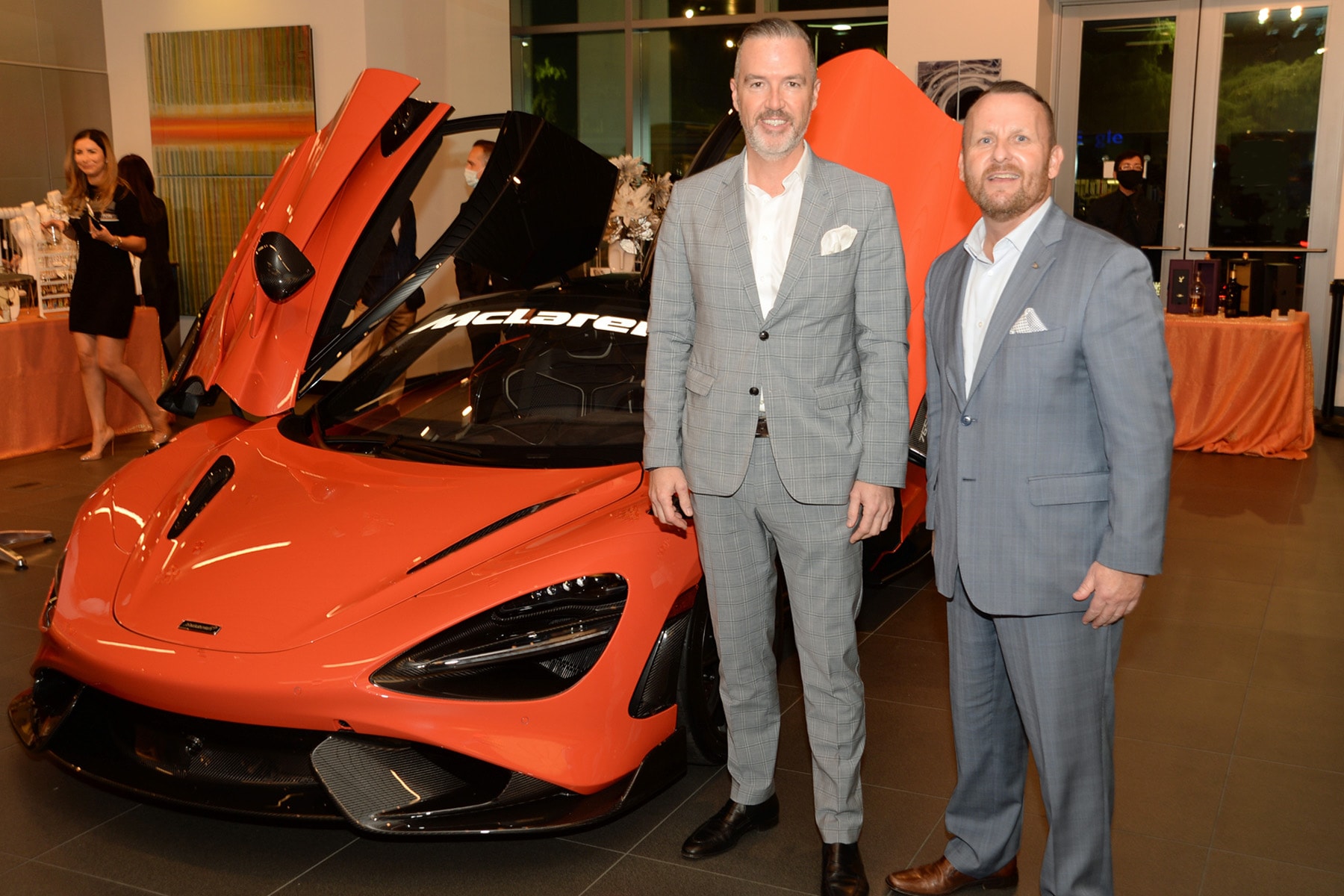 Part of McLaren's Super Series, which includes the McLaren 720S and 720S Spider, the 765LT uses innovative aerodynamics, including a 20% larger rear wing to create 25% more downforce than the 720S. Guests smiled and murmured their appreciation as McLaren Dallas Sales Experience Manager Simon Crossley started the beautiful beast up and revved the 4-liter, twin turbo engine, creating a delightfully raucous sound inside the dealership.

McLaren Dallas is part of the Avondale Premier Collection at 5300 Lemmon Avenue, near Love Field.

---
Avondale Group is an innovative automotive business led by a team of professionals with decades of experience. Avondale Dealerships operate Mercedes-Benz of Grapevine, Porsche Grapevine, Sprinter Grapevine, Aston Martin Dallas, Bentley Dallas, Koenigsegg, McLaren Dallas, Maserati Dallas, and Rolls-Royce Motor Cars Dallas. In addition, the company manages Avondale Collision & Repair, and Avondale Select, a subscription service for luxury vehicles. For more information, visit avondale.com.