Bentley Dallas' Adriana Boas uses her diverse skill set to deliver client experiences second-to-none, and all for one of the world's most prestigious automotive brands. This is her story (or at least part of it).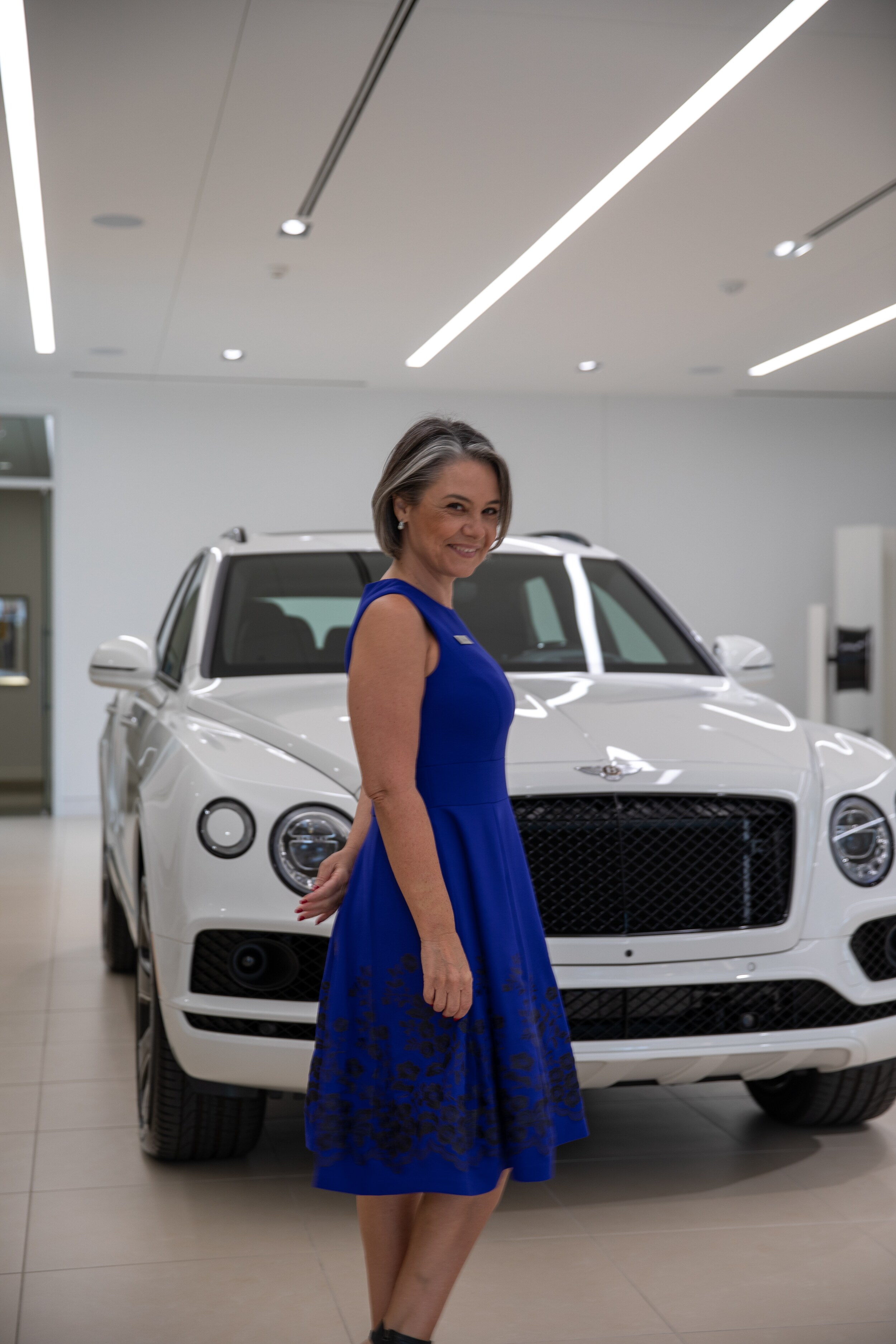 ---
Adriana Boas is currently a Sales Experience Manager at Bentley Dallas, an Avondale Premier Collection dealership. She's also a factoid fiend who can rattle off all sorts of stats – the number of hides required to complete a Bentayga's interior (14), engine torque stats from the vehicle's W-12 engine (664 lb-ft), and off-road lateral and longitudinal angle tolerances (up to 35 dizzying degrees)- which is important when selling such an intricately engineered and beautifully designed auto.
Her gift for assured delivery speaks to her journalism training at the Methodist University of Sao Paulo and her subsequent 14-year career as an on-air anchor and personality at ESPN Brasil, Rede Familia, SBT Campinas, TV Seculo XII, and Radio Bandeirantes.
She and her kids moved to northern California in 2005 where she practiced journalism until 2008, ultimately opting to join the retail couture industry in swanky Aptos and Los Gatos.
And that's when things really changed.
As Adriana explains: "A client of three years' standing handed me a business card and said, 'If you would like to change your life, call me.' The card featured the Bentley logo and it took me six months to work up the courage to call. And even though I didn't know a thing about cars, I called and after a lengthy interview process, I was hired to sell Bentley products. And my client was absolutely right – everything changed."
Two years later (2017), she joined Park Place Dealerships, and in August 2020, Avondale Dealerships and the Avondale Premier Collection, where her sales acumen and storytelling skills remain on full display- in-person and online through her social media channels. With her client's permission, you'll get a front seat view as she walks her clients around their new car, captures their first reactions, and brings you along for a very thorough tour of all the features and settings of the specification of the day. It's not just for fun though, it's an intentional way to make authentic connections and share real stories.
Family First
Her sons are grown now and out of the house – Lucas is a musician in San Francisco and Gabriel is a Los Angeles-based filmmaker. "When they come to visit, it's pretty much 'Hi mom, bye mom,'" she laughs with a what-can-you-do shrug.
And while she admits missing them, all that empty-nest freedom allows her to indulge her passion for the arts. "I'm an old soul," she confesses. "One of my favorite novels is the Italian murder mystery, "Name of the Rose" by Umberto Eco. And I love movies, especially anything with Fred Astaire or Alain Delon. Sean Connery too – he's still the best James Bond!"
Fine Cars and Fine Dining
Her other passions include traveling (inherited from her father) and fine cuisine, as in Michelin-level fine dining experiences.
Case in point: while in Los Gatos, she treated herself to dinner at Manresa and also plans to go to what is considered America's finest dining experience – Chicago's Alinea. (Both Manresa and Alinea have earned Michelin's coveted three stars, among just 14 such establishments in the country.)
Adriana also has high expectations of Dallas' venerable French Room, thanks to new executive chef Diego Fernandez, who, not coincidentally, hails from Alinea. "I really believe he'll elevate the French Room to an entirely new level while keeping everything that makes it so very, very special. I can't wait!"

---
So how does Adriana (who is fluent in Portuguese and Spanish as well as English) define success? "You have to stay active, stay involved. You have to brand yourself both personally and professionally. I'm always going to events and popups. People need to see you outside of this work world and then you can connect on an authentic level and earn trust at every level."
Visit Adriana and the Bentley Dallas team at 5300 Lemmon Avenue for truly elevated experience.